Bear Paw Development Corporation has Loans for New Businesses.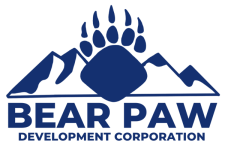 (Havre) – Bear Paw Development Corporation announced they currently have loan funds available for business owners and entrepreneurs in northern Montana interested in starting a new business or expanding an existing enterprise.
Bear Paw Development secured these funds through partnerships with agencies including the Montana Department of Commerce, USDA Rural Development and the Economic Development Administration. These loans will be awarded to for-profit entities for a variety of purposes, with an emphasis on creating or retaining jobs and expanding the local tax base.
To receive more information on the loans and how to apply, call 406-265-9226 or email Trish Cichosz, Director of Loan Services, at [email protected]
Posted in:
Bear Paw Development
,
MEDA -Montana Economic Developers Association
,
Montana Business
,
Montana Business and Govt. Agency Collaboration Success
,
Montana Economic Development
,
Montana Ambassadors
,
Developing Funding Opportunities in Montana
,
Developing a more Entrepreneurial Montana
,
Funding and Building your Business
,
Regional Economic Development
,
Rural Communities
,
Montana Leadership
,
Community