Gov. Kate Brown announces WGA Chair Initiative, the Electric Vehicles Roadmap
Western Governors' Association Chair and Oregon Governor Kate Brown, asserting "we are on the precipice of a historic transition," launched the Electric Vehicles Roadmap Initiative, which seeks to achieve an expanded regional agreement on electric vehicle (EV) charging infrastructure that can "unlock new potential across the West."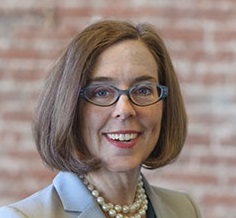 Gov. Brown rolled out her WGA Chair's Initiative with a keynote address during a webinar that included a conversation with EV officials from Idaho and Washington state, further illustrating the regional nature of the project.
The Initiative now continues with a series of work sessions to explore challenges and opportunities, with a goal of an expanded regional agreement on EV infrastructure by next June's WGA Annual Meeting in Sunriver, Oregon.
Sorry, we couldn't find any posts. Please try a different search.